Your sailboat
All our boats are unsinkable, CE approved and certified for use at sea. All of them can be fitted with a motor and can include a mast, sails, oars or motor to suit your tastes.
You have a choice of colours for the hull:
Black
White
Burgundy
Midnight Blue
Plum

You'll love gliding over the water and the thrill that comes with a boat that sails well, is agile, easy to handle and manoeuvre, safe for you and your crew… To get to grips with it, we recommend you start with the Gazelle des Sables Catboat      or  the Gazelle des Sables Gaff Cutter then you can add to your equipment after one or two seasons.


If you adore sailing, you love smooth handling, great manoeuvres and the wind in your sails then, depending on the size of your crew, the Gazelle des Sables Gaff Sloop and her big sister the Gazelle Breizh    are made for you: their handling and performance exude pleasure and style.



Just like her little sisters, the Gazelle des Iles is the ultimate family sailboat: get friends on board, rearrange the huge internal flat-bottomed space to sleep at anchor, load your fishing equipment or simply soak up its XXL comfort. The Gazelle des îles  has the same features as her little sisters: her adaptive sails bring you everything from tolerance to power whilst staying simple, safe and exciting. She also makes a fun-filled superyacht dinghy.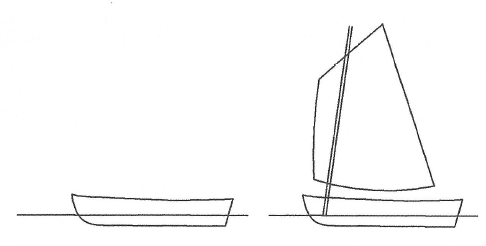 If you're looking for a versatile boat to go fishing or rowing, teach budding sailors to scull or hear the wind billowing in the sails on board a comfortable, super-stable and elegant boat, choose the   Lascar du Toul'Ru. This boat is a sailing dinghy, sail-and-oar boat and motorised rowboat in one with everything you could wish for.
Customise your boat 
Please ask us for our equipment and accessory catalogue to reveal the secrets behind our unique boats: origins, design, eco-construction and adapted equipment:
Car trailers, beach carts
Mooring covers, winter covers
Additional sails: Genoa jib, flying jib, forestaysail
Electric and combustion motors
Delivery and handover, assistance launching boat…