The Ateliers de la Gazelle des Sables: Boat Builder
All of our products are made in the Ateliers de la Gazelle Des Sables in  Chaudefonds-sur-Layon (49) using the Vacuum Injection method: polyester resin is seamlessly drawn into fibreglass between two closed moulds ensuring perfect weight control in ever lighter and stronger transportable boats.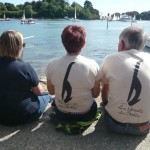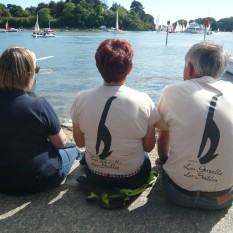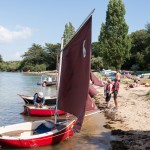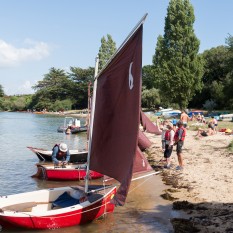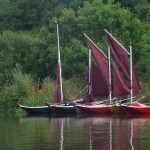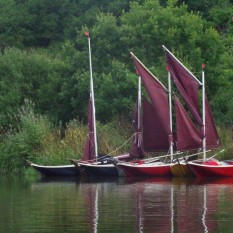 About us
Patrick Besnié has been a naval architect and boat builder for over 30 years and is also a composite materials engineer. His experience in the industry means he can choose the best technologies and raw materials to create top quality products.
'Going back to basics and dropping the unnecessary is key to designing fun, simple and safe boats to share with the ones you love or treat yourself to,' he says.
Patrick designed the Gazelle des Sables ranges for his wife Marie in 2002. Following growing demand, the Ateliers de la Gazelle des Sables was born in 2005. In 2009, transportable boat specialist, the Ateliers de la Gazelle des Sables set a benchmark in small sailboats for families. In 2014, the production site moved its headquarters to Maine-et-Loire, in Chaudefonds-sur-Layon (France – 49)
The SAS PB CONCEPT – The Ateliers de la Gazelle des Sables now make around 60 boats per year with a small team that are experts in the sector and trained in the vacuum injection method.
 Marie Besnié: Switchboard & Service

(+33)06 61 38 17 80

contact@LaGazelleDesSables.com

 Patrick Besnié: Naval & Technical Architect

(+33)06 29 76 49 52

contact@LaGazelleDesSables.com
A core strategic skillset
Because your boat is one of a kind, the Ateliers de la Gazelle des Sables draws on its wealth of internal expertise at the core of our regular boat building business:
Naval architect Patrick Besnié customises your equipment at any time: construction, ergonomics, design, aesthetic, engine power etc. Demand the best from a bespoke creation. His in-house design team means you can be bold and make your boating dream come true.
Sailing School and Courses: our team of sailing instructors support you on your maiden voyage, first launch, refresher course or advanced training. With boat trips, local water guides, regattas and more, get involved in our group excursion network which brings owners and fellow boaters together to experience the joys of sailing in amongst friends.
Customer service: a dedicated 7/7 text hotline, manufacturer guarantee, sailing courses, we're here for you before, during and after the construction of your transportable boat.
Transportable boats built near Angers (France-49)
With a wealth of technological expertise and figures in regular sustainable development, the Gazelle Des Sables Ateliers chose to base the boat building business in Anjou: on the edge of the Paris region and next to Brittany/ In 2014, the Ateliers de la Gazelle des Sables opened their doors to the Atlantic when they moved to the heart of the Coteaux du Layon vineyards in Chaudefonds-sur-Layon(49), within easy reach of the A11 and A87 motorways.
We now make each and every one of our boats. Like our boats, our production site is traditional design meets modern innovation, so come and soak up our unique pioneering technology in our premises nestled behind the old stone winemaking estate.