A traditional and modern sailboat 
The sardine crisis between 1902 and 1904 fuelled the evolution of traditional fishing boats: having to fish further off the coast meant crews had to update their boats' nautical features and improve their safety at sea…
The first Gazelle appeared in the early 20th century in the Sables d'Olonne by pairing traditional Vendée fishing boats with Brittany sailing rowboats which were well-suited to the ocean.
Its pointed arched stern stands out from traditional sterns which have a straight or round transom. The almost vertical bow pre-empts our century's concepts and sloop sails were easy for small crews to rig. The Sables d'Olonne Gazelle was incredibly agile, its performance on the water was particularly well-suited to the sea, it sailed further faster and was one of the most memorable tuna boats of its time.
The origins of exceptional boats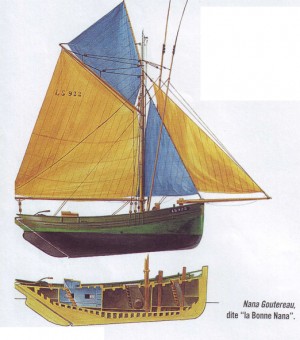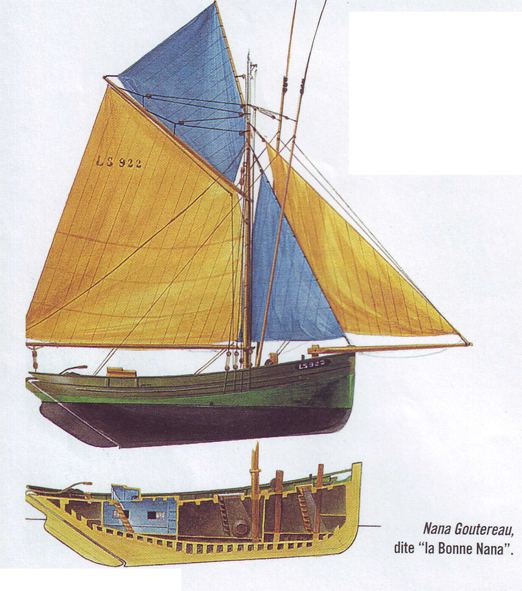 A graceful and elegant boat with a smooth bilge, an almost tulip-shaped entry and clear vanishing points, the Sables d'Olonne Gazelle had the best of the famous Dundee fishing boats whilst providing crews with a secure bulwark, a deck for better protection and, most importantly, a stern that would save countless boats during the hurricane on September 19th and 20th 1930.
Most Brittany tuna boats had a descending freeboard from the rear (to make it easier to offload the catch) to the sternpost on the straight transom: 2 breakers in a row was all it took for the boat to sink.
In the same conditions, the Sables d'Olonne Gazelle's pointed stern gave less sway to the waves and took on less water. Following the tragedy in 1930 which sank over 450 boats along the Atlantic coast, the coastal shipyards finally standardised the pointed stern from the Sables d'Olonne Gazelles.
You could still admire the amazing architecture on old Gazelles in Noirmoutier, La Chaume and St-Gilles-Croix-de-Vie but some have since disappeared. Boat builder and naval architect Patrick Besnie has updated the Gazelle to create a sailboat with real personality that captures the art of pleasure boating: The Gazelle des Sables©.
Last but not least, a versatile rowboat was designed to add the finishing touch to the range. It had to sail well with a mizzen lugsail, be stable over the swell and perfect for rowing and sculling. This vintage sailboat from the Piriac coasts inspired the hull on the current Lascar du Toul'Ru.